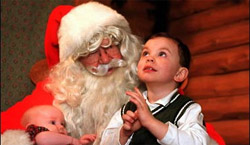 Mondays through Fridays 3pm-6pm.
Saturdays & Sundays 1pm-5pm.
Enjoy an enchanted visit with Santa Claus, Mrs. Claus and the elves in the beautiful log cabin nestled at the highest point in the park!
This is a traditional, family friendly event. There are no sponsorships or commercialization of the event and it is free for everyone!
Stop at the elf desk to see if you're on the naughty or nice list then head over to tell Santa how good you've been and what you want for Christmas. Don't forget to visit Mrs. Claus to have some hot cocoa and a cookie!
Bring a non-perishable food item for the local food pantries. All donated in the name of the friends of Wickham Park.