ENTRANCE FEES
All prices are per vehicle entering the park.
Vehicle fees are cash or check only.
Cars:
$7 Monday – Friday
$10 Weekends and Holidays
Buses:
$84 Monday – Friday
$120 Weekends and Holidays
Limousines & Large Passenger Vans:
$21 Monday – Friday
$30 Weekends and Holidays
ALSO AVAILABLE …
Weekday Season Passes:
Weekday season passes will be available at the front gate beginning April, Passes are valid only from Monday – Friday, and can be used from April to October. Manchester and East Hartford residents can purchase a weekday season pass for $60. All out-of-town residents can purchase a weekday season pass for $90. A valid form of ID showing residency will be required at the time of purchase. For any additional information, please call (860) 528-0856.
Season Pass:
A seven day pass is available for $100 per vehicle without residency requirements and can be used from April to October.
Senior Passes:
Senior passes are available at the front gate for anyone over age 65, beginning opening day. The price is $45 and can be used for entrance to the park throughout the regular season (including weekends and holidays). Proof of age is required at time of purchase.
WICKHAM PARK MAP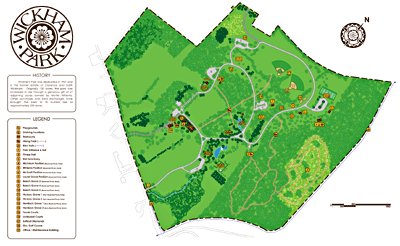 Wickham Park Map Wickham Park Map
View detailed map
HOURS
Wickham Park is open 7 days a week from the first weekend in April through the last weekend in October. Find specific events under special events. Regular Park hours are from 9:30am to Sunset with the exception of Cabin functions until 11PM. The Park will close for inclement weather providing there are no existing reservations. Always available for facility tours.
For information on having a picnic or event at the park please follow this link.
RESTROOMS
There are three sets of public restrooms in the park, and all are handicapped accessible. One is located near the Aviary and main playground, a second is located in Hickory Grove II, across from the Cabin, and the third set is a part of the Wickham Pavilion.
SECURITY
Upon entering Wickham Park, you will be greeted by a member of our Ranger staff at the gatehouse. He or she can provide information and directions for park activities. Rangers patrol the park in marked and unmarked vehicles and, along with other park staff, can be identified by their uniforms. They will be more than happy to assist you.
AFFILIATIONS
Connecticut Bound | CT Tourism | Connecticut Travel