Please read: Wickham Park's opening day will be on May 22nd and we will be open daily from 11am-8pm. We are very happy to welcome everyone back to the park. Because of restrictions on facilities and in order to make things easier and safer for our guests and rangers we are reducing the vehicle entry fee to $5 on weekdays and $7 on weekends. The planned fees for 2020 were $7 for weekdays and $9 on weekends and holidays.  Please bring exact change if possible. Due to State of Connecticut rules for opening, the Nature Center will be closed. We ask everyone to wear masks and maintain social distancing. Our picnic sites and pavilions are open and available for rent. 2 of our playgrounds are also open and we ask users to wash your hands before and after using the equipment. The concession stand will be open on weekends with a reduced menu, from 12 to 6 p.m.  We will have 2 restroom facilities open, at the nature center and near the cabin.  They will be disinfected regularly in following state guidelines.  Hope to see you at Wickham Park soon!
Wickham Park is a non-profit, private foundation whose property extends into both Manchester and East Hartford, Connecticut. The park contains 280 acres of gardens, open fields, woodlands, ponds, picnic areas, sports facilities, and other attractions.
DIRECTIONS
Wickham Park is located at 1329 Middle Turnpike West in Manchester, Connecticut and is easily accessible from Interstate 84.
From the North: Take I 91 South to I 291 East, take exit 5. Take a right at end of exit ramp and proceed to second stop sign. Take a left onto Longhill Drive. Go straight through a stop sign, at stop light take a left onto Burnside Avenue. Park entrance will be on the left in approximately 1 mile.
From the South: Take I 91 North to I 84 East to exit 60. Left at the light straight at the next light and the park entrance is 150 yards on your right.
From the West: Take I 84 East to exit 60. Left at the light straight at the next light and the park entrance is 150 yards on your right.
From the East: Take I 84 West to exit 60 (Exit 62 and exit 60 are combined, you will parallel the highway and it will appear you are heading back to I 84, stay in the left lane until you reach exit 60 on the right) take a right at the light and the park's entrance is 150 yards on your right.
WICKHAM PARK MAP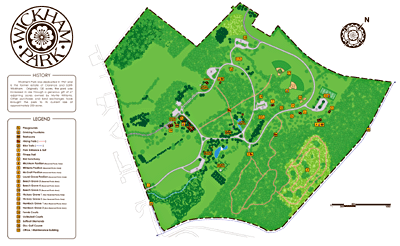 Wickham Park Map
zoomable .PDF format (800 K)
ENTRANCE FEES
All prices are per vehicle and paid in cash when entering the park
Cars:

$5 Monday – Friday
$7 Weekends and Holidays

Limousines and
Large Passenger Vans:

$15 Monday – Friday
$21 Weekends and Holidays

Buses:

$60 Monday – Friday
$84 Weekends and Holidays
DOGS
Dogs must be leashed and are allowed in most areas of the Park.  Dogs are not allowed in the playgrounds, aviary and Sensory Garden.
ALSO AVAILABLE…
Weekday Season Passes:
Weekday season passes will be available at the front gate beginning April, Passes are valid only from Monday – Friday, and can be used from April to October. Manchester and East Hartford residents can purchase a weekday season pass for $60. All out-of-town residents can purchase a weekday season pass for $90. A valid form of ID showing residency will be required at the time of purchase. For any additional information, please call (860) 528-0856.
Senior Passes:
Senior passes are available at the front gate for anyone over age 65, beginning opening day. The price is $35 and can be used for entrance to the park throughout the regular season (including weekends and holidays). Proof of age is required at time of purchase.
Wickham Park is open 7 days a week from the first weekend in April through the last weekend in October. Find specific events under special events. Regular Park hours are from 9:30AM to sunset with the exception of Cabin functions until 11PM.  The Park will close for inclement weather providing there are no existing reservations.
RESTROOMS
There are three sets of public restrooms in the park, and all are handicapped accessible. One is located near the Aviary and main playground, a second is located in Hickory Grove II, across from the Cabin, and the third set is a part of the Wickham Pavilion.
SECURITY
Upon entering Wickham Park, you will be greeted by a member of our Ranger staff at the gatehouse. He or she can provide information and directions for park activities. Rangers patrol the park in marked and unmarked vehicles and, along with other park staff, can be identified by their uniforms. They will be more than happy to assist you.
AFFILIATIONS

 Connecticut Bound | CT Tourism | Connecticut Travel