Welcome to Wickham Park Disc Golf. Our 26-hole course is the first facility of its kind to appear in the Greater Hartford / Central Connecticut region and could not have been accomplished without the generous support from our contributors and sponsors.  The course is free to use with your admission to the Park.  Scorecards, pencils and rental discs are available at the front gate.
The course features challenging terrain including wide open fields, narrow wooded passages, and pine and larch groves all nestled in a scenic environment that offers beautiful vistas and pronounced elevation changes. Rolling hills and natural boundaries along the wonderfully manicured landscape provide a dynamic golf experience while wind currents that vary from day to day will occasionally require tricky shot adjustments.
The layout of the course was designed to safely accommodate both disc golfers and regular park patrons by mitigating crossover into highly trafficked areas, an attribute that also promotes the overall flow of play from hole to hole. At the few places of intersection we thank players for their patience and courtesy as well as their keen eyes that constantly watch for and avoid potential hazards.
The course extends from the north end of the park along Tolland Turnpike and near the softball fields towards the southern edge along Burnside Avenue (West Middle Turnpike) before looping back past the Cabin Garden and along the far edge of the Lotus Garden. A practice basket has been installed near Parking Lot E for players to warm up and enable them to sharpen their putting skills.
Disc Golf is among the nation's fastest growing sports, and we thank you for your participation. Enjoy the course!!
Take a look at the Lost and Found information!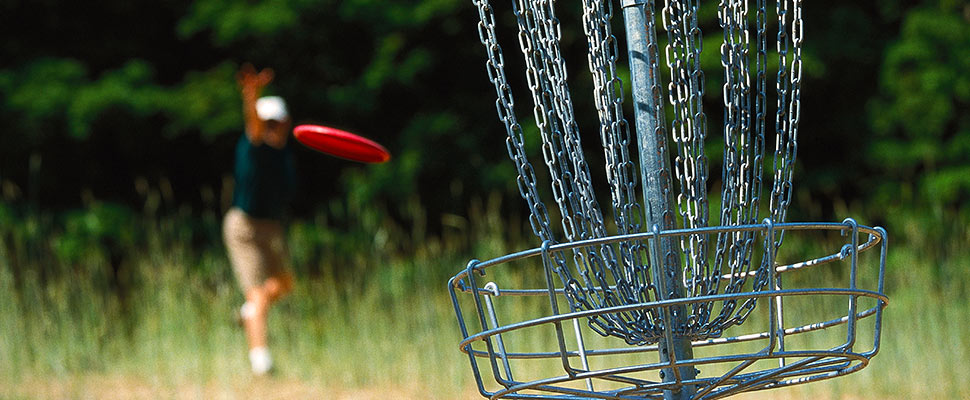 ---