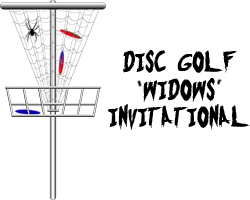 Open to all skill levels.
A bring your partner doubles format: husbands and wives, girlfriends and boyfriends, fathers and sons, mothers and sons, children, all welcome for one round of 18 hole disc golf.
Wickham Park standard 18 hole course
Cost:$20/team
There will once again be a variety of divisions to choose from:
Widows (one reg. player and their significant other)
Power Couple (both players play on a somewhat reg. basis)
Children (one player one child, two children, one player child and their non-playing parent)
bro/wo-mance (one player one non player that is not a child) this div. is on an as needed basis
All non-player widows,children,non-player parents, and non player bro/wo mance will shoot from alternate (shorter/easy) tees for every hole.
This is a one round 18 hole tournament with a picnic (pot luck) lunch afterwards. Player packs will include glow in the dark mini and Crafty soap.
Registration is from 9:30am-10:15am, round begins shortly after.